Kitchen Transformation Details
There are some affiliate links in this post. If you purchase anything from the link I get a small commission to help defray the cost of my blog.
As you've seen in my post on our kitchen transformation, we're finally done! I wanted to share with you some of the details of the space. There were countless choices we had to make. Keeping it simple with white Shaker style cabinets was important to me. I wanted a clean and open feel more than anything.
Countertops and Backsplash
If y'all know anything about me at all, you know that I'm like a bird; if it sparkles, I'm all over it! I'd seen sparkly quartz countertops used in several episodes of different home improvement shows. That style counters was one choice I was determined to make. We ended up choosing a sparkling white quartz for the countertops. This style has nice flecks of shades of gray and, of course, sparkling silver. They are simply beautiful.
Our backsplash was a much more difficult choice. We brought home countless samples of mosaic sheets of tile. Did we want a dark backsplash? How about a mosaic with small mirrored tiles? We looked at mosaics of circles and some that had big tiles with fancy shapes. Finally we decided on a 12×12″ mosaic made of small glass rectangle tiles. Some of tiles are crackled glass.
When we went to Lowe's to purchase the tile, we were so sad to find they only had about 13 sheets. We'd need more than 50. The guy at the tile counter was very helpful. He searched all the other stores in Texas until he came up with number of boxes we'd need. The stores that had the tile agreed to ship them to our local store. We were able to pick them up few weeks later.
Finding someone to install the backsplash, however, was a whole other thing. It seems that nobody wants to come to our little town, ever. We're about 30 miles from all the major cities around us. Coming from the Dallas metroplex we never encountered this. When we lived in Talty, if I need service from surrounding cities, we never got any resistance. It was just a given. Not so much here.
Happily, after exhausting all of our sources, our electrician recommended someone who'd done some work for him. He was willing to come and do the installation.
Pantry
We ended up taking the existing pantry area and using that for our refrigerator. This meant that needed another kind of pantry storage. Our cabinet guy designed a really functional two section pantry. The top has several shelves that holds more than you can imagine.
The lower cabinet has several pull-out drawers. They are spaced in such a way that tall boxes fit with ease. It provides plenty of storage space.
Spice Cabinet
There was an empty space in front of the brick column. We didn't want this space to go to waste so the cabinet guys designed a smaller cabinet to go there. They crafted a beautiful walnut cutting board to top the cabinet. Not wasting a bit of space, they also created a spice drawer system that fit the shallow cabinet perfectly. The drawers are hinged and double as they pull out. Most all of my spices fit perfectly. There's even a drawer to hold my pot holders!
Trash Can Drawer
I'd never seen this type of drawer in action until I visited my daughter in her newly built home last year. She has one built into her island. I was skeptical; certain that you'd be able to smell the trash can odor. Turns out I was wrong. There was no odor at all! I loved the idea of hiding the trash like this so I requested to have a drawer installed in our cabinets. I just love how you can fit two cans in the drawer. It's also great how during meal prep you can just scrape your trash right from the counter directly into the can. Mine was special built, but Amazon carries the Rev-A-Shelf – 4WCSC-1835DM-2 – Double 35 Qt. Pull-Out Bottom Mount Wood and Silver Waste Container with Soft-Close Slides
which is basically the same drawer.
Sink and Faucet
All along I'd planned to get a white cast iron two-bowl undermount sink. That was until I actually started shopping for one. Holy schmoly! Talk about cost prohibitive! There was no way I was spending almost $1,000 on a sink! I had been opposed to a basin sink. It always seemed inconvenient to not have two bowls. For whatever reason, I decided to go with the one bowl basin sink. The Ruvati 32-inch Undermount 16 Gauge Tight Radius Kitchen Sink Stainless Steel Single Bowl – RVH7400
is the perfect size! You gotta love Amazon! It was only $200 and came with the nifty rinse grid. I bought the dish drainer separately.
I also got the VAPSINT Faucet
from Amazon. $90!
The other faucet is for the water purifier. And no, we aren't hoity toity- our town just has funky water!
Microwave
You may be wondering why we have an over the range microwave over our dishwasher. Our range sits in an open cabinet- there's no room for a range hood. I had to come up with a space for the microwave oven. A built-in microwave seemed like the way to go, but again- good gravy! They are so very expensive- like hundreds of dollars. After pricing them, we discovered we could get an over the range microwave for around $300. So we thought- what the heck. Let's just put it over the dishwasher. I absolutely did NOT want it taking up counter space. It might be a little different, but so am I, I guess.
Floors
Our floors are not small individual tiles that make up one big design. They're actually 16×16 tiles that look like they're made up of 4 smaller tiles. They came from Floor and Decor. They may be my favorite part of the kitchen. I'm not gonna lie to you. With four dogs and a pet door right by the kitchen door, I have to sweep that floor every day and mop about every three days. I use the Dyson stick in between.
Other Stuff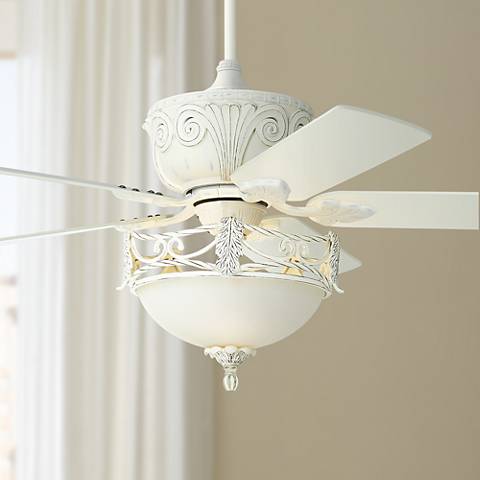 Our gorgeous 52″ Casa Deville™ Rubbed White Ceiling Fan with Light came from Lamps Plus. The antler chandelier in the dining area came from Pottery Barn. We got our range, dishwasher, and microwave from Best Buy. If you have any questions about anything else you see, please ask in the comments. I answer every question.
(Visited 3,438 times, 4 visits today)