Fall Tablescape Ideas
Setting your tablescape for fall can be as varied as your imagination. My table is set as you might imagine; orange, brown, and gold colors. I use pumpkins, fall leaves, candles, and other fall vegetables. For my fall tablescape, I started with a large glass vase filled with different styles of pumpkins and other fall veggies. Crates that I pick up from Michael's and had The Mean Man stain, hold lots of the same pumpkins and leaves along with a couple of flameless candles. For visual interest, I added two different height candlesticks with larger flameless candles. A pretty "Give Thanks" ceramic pumpkin along with some sunflowers, and a twisting garland with fall elements round out my tablescape. Brown place mats with napkins in iron rooster napkin rings complete the look.
Christy at Confessions of a Serial Do-It-Yourselfer goes with beautiful greens and whites to create a gorgeous fall tablescape. I love how she uses different heights to add more interest. Her pumpkins look amazing after she painted and covered them. The different textures also are so gorgeous.
Yvonne at Stone Gable, as always, exudes grace and simplistic beauty in her fall tablescape. She uses her own home grown hydrangeas to fill a pretty wooden container on her table. Pumpkins mixed in give this a true fall feel. Small towers of pumpkins under glass finish her look by adding another texture. When I grow up I want to be like Yvonne!
Marian at Miss Mustard Seed takes understated elegance to the next level with her lovely minimalist tablescape. How gorgeous is this? Simple bowls of apples, a few pine cones and pretty white pumpkins look absolutely beautiful.
Delores at Vignette Design show you how to make this beautiful pumpkin floral centerpiece. What a show stopper! This goes beyond elegant. I love the idea of fresh flowers on the table for fall. Vintage china and a rustic table runner makes this a scene that wonderful to the eye.
Kristen at Ella Claire created a beautifully simple and elegant tablescape with just a few elements. You don't have to have an elaborate and busy tablescape for it to covey the wonderful feelings of fall. This simple table runner with long wooden bread board looks gorgeous outfitted with simple pumpkins, leaves, and berries. She added some sweet printed leaves to the pumpkins that remind us of our blessings.
Robin at All Things Heart and Home created an absolutely lovely tablescape using a long box filled with hydrangeas and pumpkins that she painted with chalk paint. Chalk painting gives you the opportunity to create any color accents you desire. I love the colors she chose. Timeless.
Bonnie at Uncommon Designs combines a rustic bunch of wheat with a big pretty burlap bow for a centerpiece flanked by pretty candlesticks and flameless candles. Lovely whimsical decorated big acorns sitting on a burlap runner and pretty rustic chargers for her china, make this a perfectly neutral tablescape.
Junk Chic Cottage give another example of less can be more in terms of you fall tablescape. Only a few elements can give your table a look of warmth and beauty. A pretty rustic watering can filled with flowers with various sizes of white pumpkins make a lovely statement.
Kim at Sand and Sisal offers a twist on a fall tablescape by creating a coastal inspired look. Hydrangeas are used as they often are and are coupled with pillar candles, pumpkins, and antlers. A pretty burlap runner with a ribbon stitch is lovely as an anchor to the other elements. Place cards attached to small pumpkins at each seat is a creative finishing touch.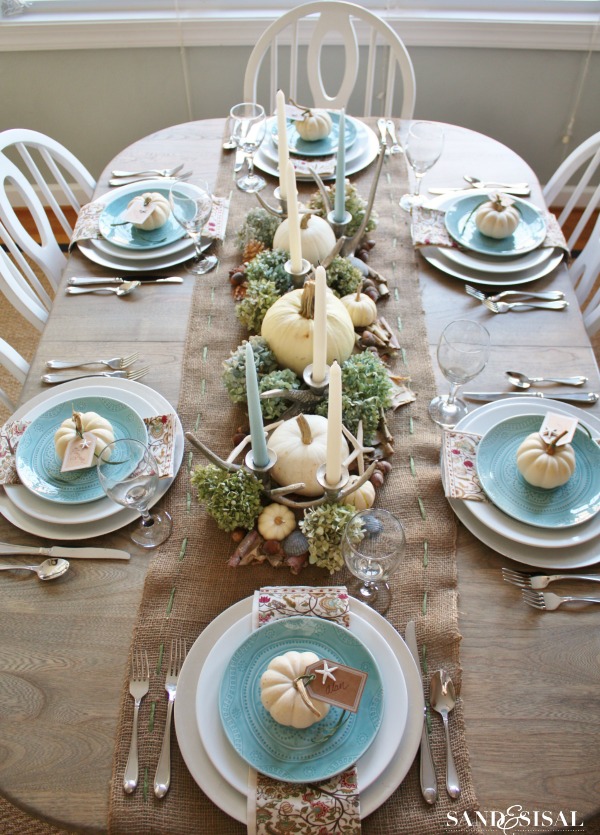 I hope I've given you an example of a style you might like to try for your own fall tablescape this year. As always, make it your own and fill it with things that you love. Happy fall y'all!
(Visited 2,168 times, 2 visits today)