This post contains affiliate links. If you happen to click a link and make a purchase, I receive a small commission to help defray the costs of running my blog.
Did you know that a ceiling fan doesn't actually change the temperature of your house? I always thought running a ceiling fan in every room was really important in terms of saving energy. Turns out, I was misinformed. What a ceiling fan does do is to make you feel cooler by the windchill effect. You are literally creating your own windchill. You evaporate sweat from your skin by the movement of the air. This, in turn, eliminates body heat.
Energy Savings
Because your body feels cooler while using a ceiling fan in the room you occupy, you can then raise the temperature of your thermostat. Setting your thermostat to 78 degrees can save 5-15% on your average electric bill. So basically, you can raise your thermostat a couple of degrees by using a ceiling fan and not really feel the difference. Now, don't get me wrong, this only applies to the room you're in at the time. This is one reason, we have ceiling fans in every room of our house.
This same scenario applies in the winter as well. You just need to reverse the direction the fan blades turn. As you know, heat rises and by reversing the direction of the rotation of the blades of your fan, you send this warm air back down. The Energy Department suggests setting your winter thermostat to 68 degrees.
This is also a reason to turn off those ceiling fans when no one is in the room unless you use the fans for air circulation.
Air Circulation
Air circulation is really important in our 120 year old house. Occasionally, our house takes on an old house odor. I find that circulating the air helps to keep that stale feeling at bay. I do use essential oils for fragrance and the fan in the room helps to distribute that fresh aroma throughout the house.
Wonderful Design Elements
Your ceiling fans can add beauty and interest to a room. When we designed our kitchen, finding the exact right ceiling fan was important to me. It took me weeks to find what I wanted. I found the place with the best selection and prices is Lamps Plus. From stylized traditional to modern industrial, they seem to have it all. I ordered our 52″ Casa Deville™ Rubbed White Ceiling Fan with Light (87534-45518-V4314) from the website and it was shipped to us. I have to say, it was the perfect fit!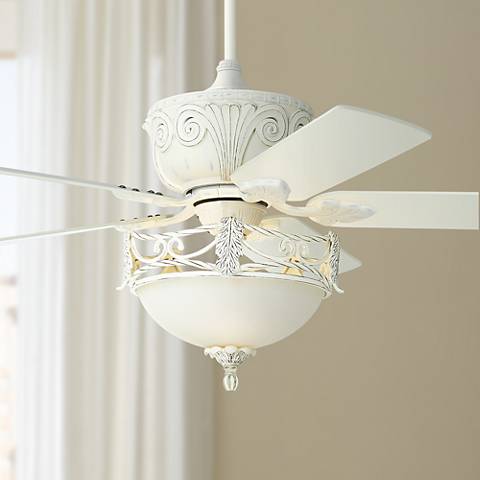 We're in the process of shopping for the fan in the new master bedroom. There are so many styles, you're really only limited by your imagination. Don't settle for just any old fan. Take advantage of the benefits a ceiling fan offers.
(Visited 564 times, 1 visits today)